Online scheduling software & calendar management
Self-service scheduling for you and your clients. Save time on coordination and increase client satisfaction.
Schedule online – anytime, anywhere
Our online scheduler can be accessed from anywhere, anytime! Simply log in from our website or download the app to manage your calendar on-the-go.
The best experience for your clients
With online scheduling, Your clients don't have to pick up the phone! Let clients schedule online services and conduct video calls via Zoom.
No website? No problem
Don't have a website? No sweat! Let clients schedule appointments directly from your Facebook, your Zoomega live landing page or your clients' service portal.
Solo? Team? we got you covered
Whether you're a one-person show or manage a team of employees, we've got you covered! Easily view your employees' calendar and assign staff to services and appointments.
No coding needed
Integrating Zoomega's scheduling software with your online assets is super easy and requires no technical knowledge or coding. Plus, it literally takes 5 minutes to set up!
Save the back-and-forth
Let your calendar work for you! Automatically confirm client scheduling requests based on your availability to save time on back & forth coordination.
Get stuff done with a powerful business calendar
Zoomega's business calendar lets you schedule appointments and reschedule anytime, set buffer time for rest and relaxation between meetings and customize your service list. The best part? You can do it all from one, friendly software.
Sync your existing calendar
with your work calendar.
Include the location, duration & pricing for each service you offer.
Create any type of one-time
or recurring event.
Online scheduler: just show up. We'll take care of the rest.
Our online scheduler will allow your clients to self-schedule or cancel appointments and services or register to events at their own convenience – anytime, anywhere and on any device.
Let clients schedule, reschedule or cancel appointments from your website, social media or a personalized client interface.

Provide a branded client portal, encouraging new clients to engage with your business, view upcoming appointments, exchange documents and pay for services.

Add your brand colors and logo to your online scheduler, website widget and Zoomega landing page.
How does it work?
Our online scheduling software works for everyone – whether you have a website, a Facebook business page or no online presence at all.
Add a Call-to-Action button to your business page, enabling prospects and clients to schedule, book, or take other actions directly from Facebook.
Add our online scheduling widget to your website directly from your Zoomega dashboard. Allow clients to complete their scheduling process without leaving your website.
Zoomega live landing page
Let clients book appointments, view upcoming appointments, pay for services, send messages and share files via your own Zoomega live landing page.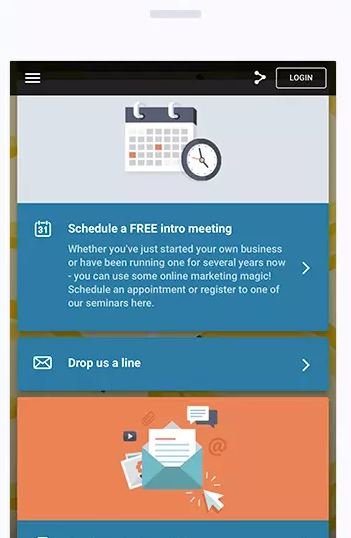 From a small meetup to a big conference
With Zoomega, you can schedule any type of one-time or recurring event.
Easily customize your online event registration form and confirmation email according to your business needs. You will be able to schedule public or invitation-only events, set a class schedule for your clients to choose from, request payments upfront and send updates to all registered attendees.
Online scheduler and more
Need more tools to manage your business? Integrate scheduling with other Zoomega features:
Billing & invoicing
Handle your billing & invoicing like a pro and accept payments online.

Client portal
Empower clients to self-serve online 24/7 through a personal client portal.

Client management
Stay organized and keep your clients close, building long-lasting customer relationships.
Lead generation
Monetize your traffic with a friendly lead-generating website widget.
Marketing campaigns
Generate more business with email campaigns & SMS marketing.
Stay up-to-date on new developments and scheduling features!
Get discovered with Reserve with Google
You can now integrate your Zoomega account with Reserve with Google – a new service that lets Google users discover your business via Google search, Google maps, or the Reserve with Google website.
Integrate Zoomega with Zoom
You can now move your services online and schedule one-on-one or group appointments via Zoom.
Give your small business that big business vibe.
Let clients self-schedule, starting today.